Types of Fencing
Take a look at examples of some of the varieties of fencing we offer. Different fencing have multiple different benefits, so it's worth considering all of your fencing options.
V Mesh Fencing
A low-level security fence ideal for creating an unobtrusive border. This is a highly durable option ideal for commercial property division. It blends seamlessly with your greenery.
Palisade Fencing
A step up in security fencing, you most commonly see this type of fence lining railways. This security fencing is ideal for securing your industrial and commercial properties.
Coated Palisade Fencing
Coated palisade fencing allows you to personalise the colour of your fence to suit the surrounding area. Ideal if you need and unobtrusive but highly secure fence.
Range of Galvanised Fencing
The process a galvanised fence goes through ensures an extra level of security for your fence. Industrial finish with security as a priority.
Paladin Fencing
Create a clear and secure boundary with paladin fencing. Less obtrusive and more customisable, paladin means a unique industry and commercial fencing solution.
Bow Top Fencing
A curved steel top fence designed with hollow bar rails, bow top rail fencing is perfect for a wide variety of applications as it is both versatile and durable. Mark your properties border with this stylish fencing.
Post & Rail Fencing
A more practical fencing solution, post and rail fencing is ideal for building the borders of a horse pen or dividing a property without spoiling the view. It's natural materials blend seamlessly with its surroundings.
Feather Edge Fencing
Constructed from large rough sawn timber boards, feather edge is stable, secure and an ideal border to your garden. This traditional board fencing suits all fencing projects.
Close Board Fencing
Also referred to as featherboard fencing, it's widely popular for its strength and versatility without compromising on looks. Available in a number of styles, this is the perfect way to customise your garden.
Picket Fencing
A timeless style for garden fencing, the traditional style of picket fencing will protect and mark out your property whilst allowing light to pass through. It will blend perfectly with any property.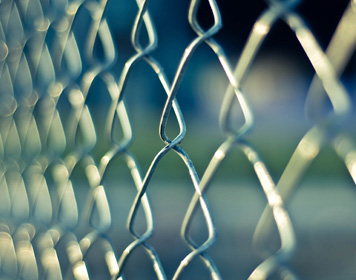 Chain Link Fencing
High-quality chain link fencing is ideal for a wide range of purposes and highly customisable. It provides security and visibly making it ideal for enclosures and commercial borders.
Bespoke Metal Fencing
Whether for a traditional estate, marking you office boundaries or a high-end finish to your properties border, bespoke metal fencing is the ideal finish to secure your property in style.